VQManager e-portfolio software has been designed to help you easily satisfy the requirements of your End Point Assessment Organisation. Because the Assessment Plans for different Apprenticeship Standards have their own specific requirements, and because EPAOs have their own preferences and software systems, your e-portfolio software needs to be incredibly flexible so that whatever your EPAO asks for, you know you'll be able to provide it.
VQManager allows the aggregation of resources for EPA, whether that means project work, certificates or workplace evidence. Then, when EPA occurs, VQManager allows you to provide the EPAO with full access to your learners' portfolios, or to export links to individual evidence items, or to export the entire 'showcase' of evidence.

You have further options – do you want to include the audit trail? Assessors' comments? It's all entirely up to you. If you are at all uncertain, we'll join you in a discussion with your EPAO, listen to what they need and show you how to simply provide it.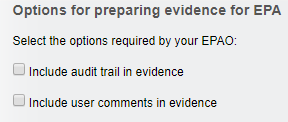 You can also export diary entries and actvity logs to evidence OTJT hours for your EPA too. Whatever your EPAO's requirements, VQManager is here to make it easy.