E-portfolio to manage your apprentices
Switching e-portfolio provider
Are you a start up business?
Are you are thinking about adopting an e-portfolio for your organisation, or perhaps you looking for a change from another system?
Our primary product, VQManager, is an easy to use web delivered e-portfolio improving:
Efficiency
Visibility
Quality
Accuracy
Participation
Retention
Return
We believe that an e-portfolio should be easy and intuitive to use, and it should make people's jobs easier and more fulfilling rather than harder and more frustrating.
VQManager has been instrumental in helping us standardise our assessment approach and at the same time reduce our cost of delivery. We couldn't function without it.
Steve Starling, Quality Director The Skills Partnership
It should provide you with maximum visibility and reporting so that you can optimise your delivery.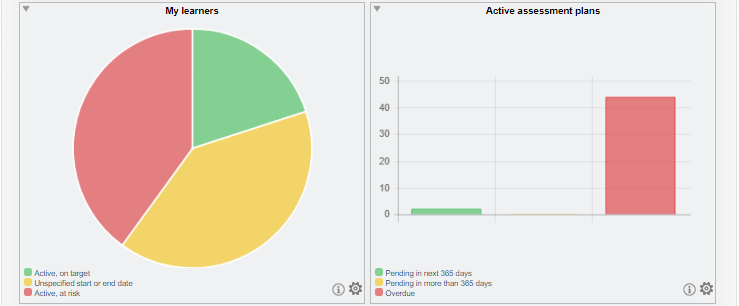 It should be a resource that's available everywhere, it should integrate with your other data sources and it should provide you with confidence when it's time for inspection.
Finally, we believe that you the customer deserve the very highest levels of support.
"Jo's comments kind of blew us away actually. It's so rare to find that kind of approach and we very much appreciate it. What fabulous customer care!"
Sue Crosland, SW Councils
"The electronic SkillWise e-portfolio system has improved communications between learners, tutors and internal verifiers. This is especially important because of the national dispersal of learners and the remote working of tutors. Progress can be monitored very accurately by senior managers, learners and tutors and information to enable remote internal verification can be easily accessed".
OFSTED
Read the latest clarification regarding Ofsted inspection here
We have developed a good relationship with the whole of the SkillWise team and have been well supported through a number of group training sessions and webinars, pre and post our Go-Live date, whilst the Resources website is an invaluable user-friendly tool, tailored specifically for each user interface.
Sue Hirst, York College
Throughout the immense period of change that the Probation Service has experienced, SkillWise has worked collaboratively to ensure that its systems and processes within VQManager were equipped to fit with any new specifications or reporting demands. As a result, VQ Manager has increased learner confidence in completing their qualification and enhanced good practice among Assessors and Internal Quality Assurers.
Vicki Idusohan NPS Training Projects Manager